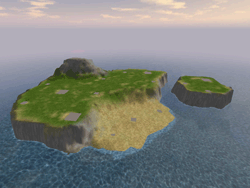 Description
Edit
RTB Isles is one of the best, basic maps in RTB. It has three islands, a beach, a mountain, and a nice blue sky for peaceful builds.
"Your own private island for whatever you want, just keep your clothes on!"
"RTB Isles, try and find the secret island!"
This map was created by Mocheeze for RTB 1.041.
Ad blocker interference detected!
Wikia is a free-to-use site that makes money from advertising. We have a modified experience for viewers using ad blockers

Wikia is not accessible if you've made further modifications. Remove the custom ad blocker rule(s) and the page will load as expected.